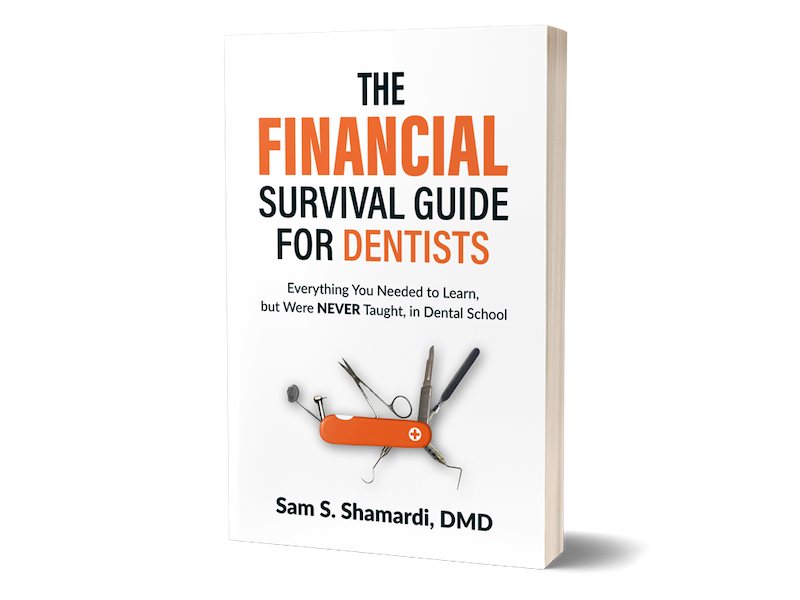 Part One
Congratulations Doctor … Now let the games begin!
Chapter 1: Ready or not. your first payment is here! (sort of.)
Student Loans
The Essentials
Nelnet Statement Guide
Glossary of Terms
Federal vs. Private
General repayment schedules
What if you aren't ready/financially capable yet (or ever)?
How you can lose the battle, but win the war: Tactics to repay loans faster
Doubling down
Refinancing/consolidation factors and limitations
Dental Loan Organizer and Calculator - DLOC
Chapter 2: Essentials to know before you sign on the dotted line
Independent contractor benefits
Employee benefits
General Contract Basics
The Deal Breakers

Restrictive Covenant
Non-solicit clause
Red flags in Dental Contracts
Chapter 3: Employee versus Independent Contractor
Step by step process to creating a business
Types of Corporations: C vs. S vs. LLC
Steps to form an LLC
Taxation and Limited Liability are not related

Double Taxation
Pass-Through Tax Deductions and How you Qualify
Home Office

Insurance
Part Two
Front-end and back-end essentials
Chapter 4: Protect Yourself; Insurances you must have, and others you could have
Necessities for dentists

Malpractice Insurance
Disability Insurance
Health Insurance
General Liability Coverage
Property Insurance
Equipment Insurance
Data Compromise Insurance
Life Insurance
Term Life Insurance
Permanent Life Insurance
Chapter 5: Savings and Retirement; Preparing for the end from Day 1
The Silent Killer: Beware of Fees
Retirement Planning
Retirement Planning Options: Where to Invest your Savings

What is a 401(k) Plan?
IRA Plans
Traditional IRAs
Roth IRA
SEP IRA

Retirement Planning as an Independent Contractor

Back Door Roth IRA
HSA account
Life Insurance as a Savings Policy

Stocks vs. Mutual Funds vs. Bonds
Should I Keep Any Cash Savings?
Part Three
Owning your own Practice
Chapter 6: Universal Essentials to Purchasing
Dental Practice Ownership

Step 1: Organize a team of specialized dental advisers
Step 2: Make an offer to the seller and submit a letter of intent (LOI)
Step 3: Apply for a practice purchase loan from the bank

How to Fund Your Practice

Step 4: Insurance Policies
Step 5: Type of business
Step 6: Have a dental attorney review dental practice purchase agreement
Step 7: Office Space
Step 8: Sign documents/ownership transition
Step 9: Send out a transition letter to patients
Step 10: Tie Up Loose Ends

The role of staff in purchasing a practice
Location, Location, Location
Chapter 7: How high is the ceiling? Watching your overhead and essentials once you are an Owner
Overhead

The Indisputable Costs
Overhead too high?

The X factor; Marketing

Digital Marketing
Website
Local Dental Directory Listings
Blogging
Advertisements (TV, Radio, Billboards, Newspaper, & Mailers)
Online Reviews
Pareto's Law
Chapter 8: A Word about Insurance
Choosing insurance plans to accept
Specialist vs. Regular Fees
Submitting Considerations and Timing
Getting Creative
Chapter 9: Partners, Associates and Never Leaving the House
Associate
Double Dipping: Owning your practice and the real estate (and maybe even living there!)

Benefits of owning property
Considerations for the buy or lease question
Part Four
Facing your biggest fears…or a Pandemic
Chapter 10: The Gut Punch
Dental Board Complaints
Insurance Provider Audits
Employment Lawsuits
Partnership Disputes
State Dental Board
Chapter 11: Worst-case scenarios
Bankruptcy
Alternatives to filing Bankruptcy
Criminal Charges
Natural Disasters and Pandemic
Epilogue: Adding it all up; The Dental dream and how you want to live
Appendix
Dreamline
The Scary Reality
EarAid
References
Get the Book
To read more, get The Financial Survival Guide for Dentists from your favorite online or retail bookseller.
Hardcover or e-book format.
Hardcover only.