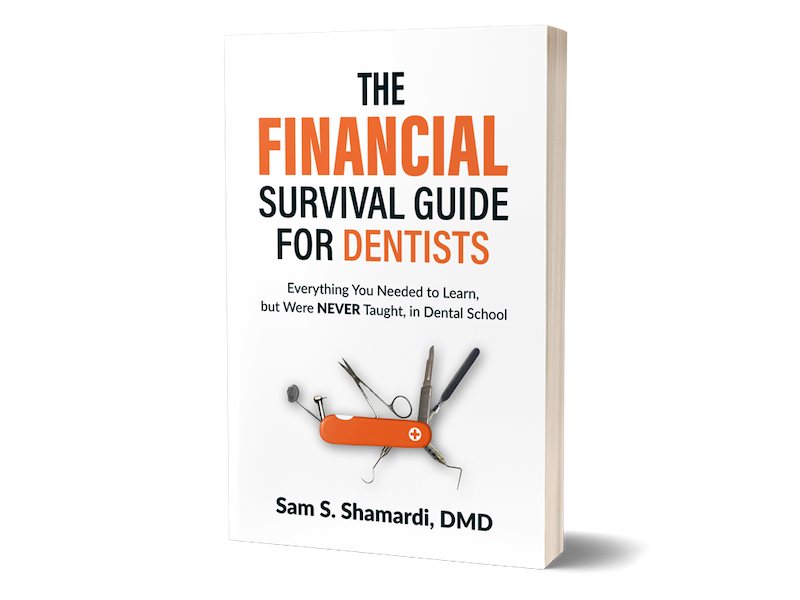 Dental school prepares students for the clinical aspects of dentistry, but not for the business of dentistry itself. As students and residents alike, we graduate with massive debt and must act as our own small business entities without knowing how to begin structuring our financial lives. Contracts, loans, insurances and retirement options are languages we don't speak, yet thet are critical to our success. The result is that dental professionals are left to figure it all out on their own and "learn the hard way." Until now.
The Financial Survival Guide for Dentists reviews the crucial details of all the essential factors needed to create the foundation for our careers as we get started. The business of dentistry is no different than anything else; given the right guidance, we can set ourselves on a path for success. So let's take control back and begin the journey on our terms. This is everything you needed to learn, but were never taught, in dental school.
Read a sample
Interested? You can read a sample section on dental student loans, Income-Based Repayment (IBR), or check out the Table of Contents.
Buy the Book
Hardcover or e-book format.
Hardcover only.
What Readers are Saying
A concise, clear, valuable business road map for the newly graduated dentist!"
Louise Paolucci, MA, CPA, MBA, RN Director of Practice Management Tufts University School of Dental Medicine
Read more testimonials from our readers.
About the Book
ISBN-13: 9781735370002 Publisher: Dental Innovations LLC Publication date: 08/05/2020 Pages: 240 Product dimensions: 6.00(w) x 9.00(h) x 0.56(d)
Where to Buy: Retail and Online
Depending on where you live, you can buy The Financial Survival Guide for Dentists in a bookstore near you, or order online.
United States & Canada
Retailers
Libraries
Schools
E-commerce companies
Amazon
Barnes & Noble
Independent bookstores
Walmart.com
Target.com
Chapters / Indigo (Canada)
Plus many other well-known book retailers and wholesalers across North America.
United Kingdom & Europe
Adlibris
Agapea
Amazon.co.uk
Aphrohead
Bertrams
Blackwell
Book Depository Ltd
Books Express
Coutts Information Services Ltd
Designarta Books
Eden Interactive Ltd
Foyles
Gardners
Trust Media Distribution (formerly STL)
Mallory International
Paperback Shop Ltd
Superbookdeals
The Book Community Ltd
Waterstones
Wrap Distribution
Australia & New Zealand
Amazon AU
Booktopia
Fishpond
The Nile
James Bennett
ALS
Peter Pal